14 Day In-Home Trial with Personalized Technical & PT Support
You'll have 14 days after your new Zeen arrives to be sure it's right for you.
Like riding a bicycle, expertise takes a bit of time and practice; so the best way to see if a Zeen makes sense for your life is to try one at home - with PT support!
We are here to support you - don't hesitate to call with questions!
You may communicate to our team that you would like to return your Zeen any time during your 14-day trial. For a limited time - we are waiving the re-stocking fee.
Contact us for details.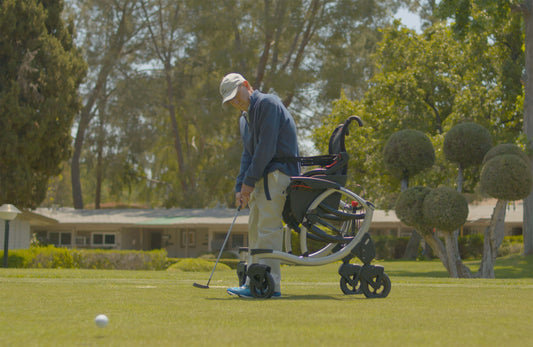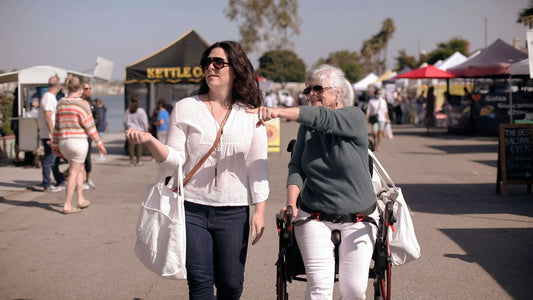 No more missing out
Don't be left behind. Life is beautiful! Be with your grandchildren in the park. Take a friend to lunch. Stroll outside and feel the sun – when you feel like it; without any help.

Zeen supports your full body weight from beneath, hands-free, so you can move at your natural pace and even coast with far less fatigue. Rest and move on whenever you like; stay out longer, go further and move faster – or simply linger over conversation. Zeen puts you back in control.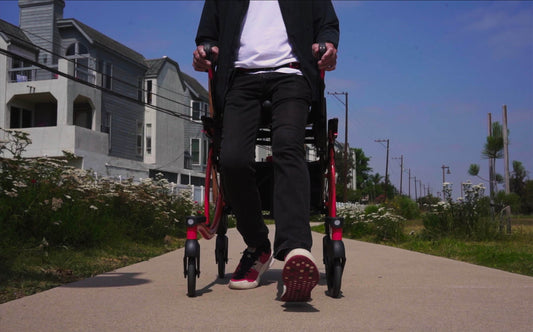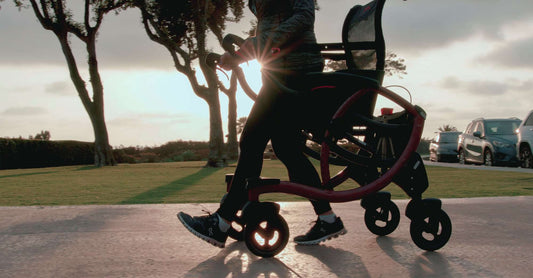 Movement with stability
Wheelchairs are stable because you're seated. But they're clunky, often require assistance and keep you from full-body exercise, which ultimately makes your muscles and bones decline faster.

Rollators and walkers give you some autonomy, but cause over 47,000 people in the US to end up in an emergency room each year due to falls. That's often because your weight is behind the device and when you lose your balance, your natural instinct is to side-step to recover - but walkers dangerously inhibit this movement.*

The Zeen was designed with help from physical therapists to keep your center of gravity at the center of the device, like a wheelchair; but it keeps you active, like a rollator, without needing your hands to stay supported, which is the leading cause of fatigue in walker use. The result is a mobile device that's both stable and agile, with full body support that lets you keep going.
"The only other device I've seen give full body weight support for ambulation was a sling and harness over a treadmill... I've seen the Zeen change how people live their lives."
Petra Rose (Doctor of Physical Therapy)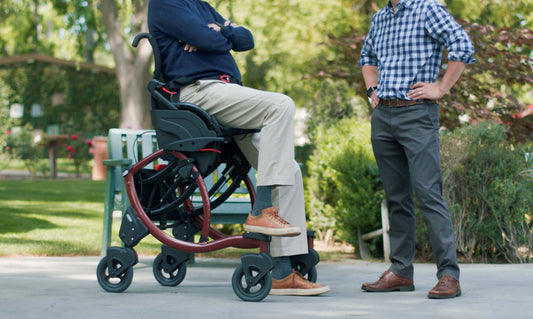 Sit, stand, and rest instantly with full body weight support
Why do the best conversations happen at standing height? Maybe it's to stay near the food or the bar, but no matter, you won't have to back away just to sit down!

The Zeen is the first battery-free mobility device to effortlessly, silently, lift you to your feet. You can stroll around or lounge in "barstool" mode as long as you care to - and when it's time to sit down, the Zeen lowers you instantly to sit at a table with nothing in your way. No fuss, no drama with servers moving your mobility device to the side.

"You feel like you're part of the group... This way you can enjoy everyone."
Anne S. (Zeen user with Arthritis)
Shop Select Zeen Accessories
"If I get this product, that will be so life changing for me because I could go anywhere"
Logan M. (Zeen User)
"I am happily going places that I wouldn't go before. People are even telling me that my mood has lifted."
Jeff A. (Zeen user with Spinal Degeneration)
"Ya'll should call it anthem mode – it would let me stand-up at the game"
Joel W. (Zeen user with Spina Bifida)
Want to try a Zeen?
The best way to know if the Zeen is right for you is to try one out.
In-person Zeen demos are available at our factory in West Chester, PA (by appointment only), or check our events calendar to catch us on the road!